Leather zippo pouch in dark brown
35,00 €
Hand made vegetable tanned leather zippo pouches.
Pouch is made by wet forming the leather, by exact measurements.
Pouch closes by a small metal snap and there is a piece of leather glued behind the snap inside the pocket, so there is nothing that could scratch your lighter.
This zippo pouch can be worn on the belt – it has a belt loop on the back side and the loop is suitable for up to 50mm wide belt.
Full grain leather zippo pouch
Materials

Pouches are made out of vegetable tanned leather, sewn with very strong waxed thread.
Pouches close by small metal snap and is made by wet forming the leather.

Used leather is hand dyed after decorating it with patterns. We use only high quality special dyes that sink into the leather surface. This will not rub off or crack. When you touch the leather item, you'll feel leather's surface not the coat of paint under your palm.

Measurements of these pouches

Measured when closed, from the top: the pouch is about 5,7cm wide and 7cm tall.

Pouches have a belt loop on the back side and these pouches can be worn with up to 50mm wide belt.
The belt doesn't have to be exactly that wide – it suits well for 30-40mm belts too.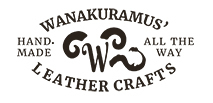 ---
If you want to ask something
We can be written to at:
[email protected]
nahakamber.ee
And we can be called at:
+372 5673 9652 Hazgal
+372 5634 7953 Krislyn
---
Leather pouches – made to order
We offer hand crafted leather cases and pouches in custom sizes and shapes, in many colours and styles.
Take a look at our crafts and get yourself a pouch or a case that suits you best!
Add one of these for a nice set: