Turquoise leather handbag
Leather handbag is decorated with hand carved image. Bag has three pockets in total and it's shoulder strap's length can be adjusted by small buckle.
This handbag is hand made of full grain vegetable tanned leather.
This item has been sold but you may order similar product: Order leather goods
Leather handbag
Materials:
Handbag is made of genuine leather. For seams we use very strong waxed polyester thread and this bag also has some metal parts – loops, rivets and buckles.
Leather used for this bag is hand dyed. We use the sorts of dyes that sink into the leather surface – these will not rub off or crack. When you touch the bag you'll feel leather not the coating of paint. Bag is also smeared with special mix that adds weather resistance and waxed.
Measurements of this handbag:
Handbag has three pockets in total.
Handbag is 12cm high/deep, 17cm wide and 6cm wide on the side. Measurements are taken from inside of the bag.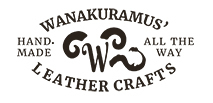 ---
If you want to ask something
We can be written to at:
[email protected]
nahakamber.ee
And we can be called at:
+372 5673 9652 Hazgal
+372 5634 7953 Krislyn