During this leather craft course we will make some sort of special or larger items.

Good example here is course that we had at Edev Eremiit woodworking masters school, where attendees made all sorts of sheaths and pouches for their very sharp woodworking tools. The course lasted for two days.

This sort of course is suitable for someone with deeper interest in leather craft, who wishes to master some special techniques and maybe even make something more complex .

This sort of course will be lasting for several days. We will be working on leather already on the first day and all the tools, techniques and materials will be introduced during that time. The exact duration will be decided when we have more information about what will we be working on.
About the leather craft course
Thorough leather craft course.
During our courses we wish to provide you and your group best attention possible and provide smooth working process. We wouldn't want to let anyone to wait for too long to get answers to the questions or discuss the next steps. This is why the size of the group has to be limited to the five persons.

Tools for the course.
Attendees do not need to buy any special tools before the course but it is of course possible and we are glad to help you to find necessary items in this case.

Place for the course.
At this point, today, Wanakuramus does not have suitable rooms where to accept the guests properly, so it has to happen at your place.

There are no special requirements for the room. Every person must have normal space and place at the table or workbench with option to sit. Normally lit room and a bit cold water is all we need in addition to that. In summer time, with warm weather, it is of course possible to work outside as well.

We have no demands for the destination, we will come wherever we are invited to.
Ask for the course – get in touch!
If you wish to order a course from Wanakuramus' leather crafters, then you are welcome to contact us by e-mail wanakuramus@nahakamber.ee

Let us know in your letter, what sort of items would you like to learn to make, where are you expecting us and how many persons will take part in the course.

All other questions will be discussed in following letters:
– The duration for the course, which depends of the items you and your group has chosen.
– The price for the course, which depends as well on the items you have chosen to make, destination we have to reach and size of the group.
---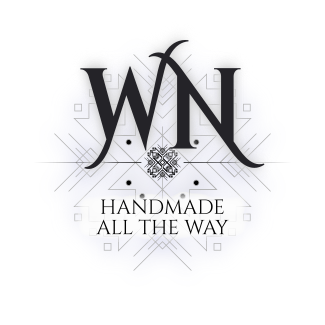 "Thorough and well thought courses and workshops – new skills and useful experiences!"

Wanakuramus' Leather Crafts
Handmade all the way
---
---
---