Capacious leather briefcase
600,00 €
Leather briefcase with capacious wide pockets.
Inside the largest pocket of this briefcase you'll find additional pockets on the front and back side. The front one in turn has two more smaller pockets attached to it to provide more options for arranging items in the bag. On the front side (outer side of the main pocket) there are two more pockets; one of those closes with separate flap.
Leather briefcase closes with metal bag lock that has a leather flap to cover and protect it from wet weather. Briefcase can be held by the handle or carried by the shoulder strap. Strap attaches to the briefcase by strong metal carabiners and it has a special widening for preventing the strap hurting your shoulder. The length of the shoulder strap can be adjusted by strong metal buckle.
The upper corners of the biggest pocket of the briefcase are also riveted in addition to the seams to provide extra durability.
There is 1 on our Pantry shelves
Full grain vegetable tanned leather briefcase
Materials
Briefcase is made out of genuine full grain leather. For seams we use very strong waxed thread (that is impossible to tear by hand). Biggest pocket is riveted in addition to the seams by metal rivets. Flap of this leather bag closes by metal bag lock.

Leather used for crafting this briefcase is dyed with special colours that sink into the leather's surface. These do not rub off or crack and when you touch the briefcase, you'll feel leather under your palm, not the coat of paint. Bag is also covered with special mix that protects it in wet conditions and in the end the briefcase is also waxed.
Measurements of this briefcase

The biggest pocket in the briefcase is 37,5cm wide and 29cm deep. On the side it is 7cm wide. Inside the biggest pocket there are two more pockets on the front and back side – both as wide and deep as the briefcase itself. Two smaller pockets attached to the front side inner pocket are both half wide (of the inner width).

Pockets on the front, outer side are 32cm wide, 23,5cm deep and one of them is 3cm wide on the side.

All measurements are taken from the inside of the pockets.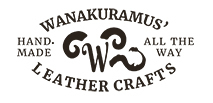 ---
If you want to ask something
We can be written to at:
[email protected]
nahakamber.ee
And we can be called at:
+372 5673 9652 Hazgal
+372 5634 7953 Krislyn
---
Leather briefcases – made to order
We offer hand crafted leather briefcases in custom sizes and shapes, with different amounts of separate pockets, in many colours and styles.
Take a look at our crafts and get yourself a briefcase that is made by your wishes!