Carved belt bag
This belt bag has multiple pockets inside.
Among others, there are five card pockets so you wouldn't need separate wallet with this bag and one of the pockets is with separate flap (for notes and coins).
Besides money you can fit into other pockets easily your phone and keys and few more smaller items you'd like to keep close.
Straps for this belt bag have been made with snaps so there's no need to take off the belt for removing or attaching the belt bag.
This item has been sold but you may order similar product: Order leather goods
Handmade leather belt bag
Materials

In addition to leather we used metal bag lock, rivets, snaps and strong waxed polyester thread for making this belt bag.

Leather used for this belt bag has been hand dyed with special leather dye. This sort of dye does not rub off or crack because it sinks into the leather surface.

Straps can be opened by snaps – this way you won't have to remove your belt when you want to take off / put on the belt bag.
Measurements

Taken from inside the bag:
17cm wide,
deep/ height 10cm
and bigger pockets also have a gusset (1,8cm and 2,6cm).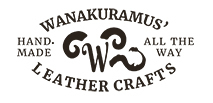 ---
If you want to ask something
We can be written to at:
[email protected]
nahakamber.ee
And we can be called at:
+372 5673 9652 Hazgal
+372 5634 7953 Krislyn
---
Leather belt bags and belt pouches in custom sizes and various colours
Would you like a leather belt bag in some other size, colour or with hand carved patterns? Take a look at our crafts and get your's custom made!
Add one of these for a nice set: