Dark brown leather belts (35mm)
50,00 €
Solid long lasting full grain leather handmade belts.
Belts have two belt loops. One is attached right behind the buckle and the other can be used to tuck the end at the suitable place.
Handmade leather belts
Materials
These belts are made out of full grain vegetable tanned leather and the leather is dyed by hand during the work. We use only the sort of dyes that sink into the surface of the leather – the belt will never loose it's color, neither will it ever crack. When you touch the belt, you'll feel real leather not the coat of color.
Belts have strong and durable metal buckles.
Measurements
Belts are 3,5cm wide.
Various lengths are possible – we can make you a belt in desired size. If you can't find suitable on this list, just let us know and we'll make you one!
These belts have holes for buckle made 2cm apart.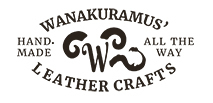 ---
If you want to ask something
We can be written to at:
[email protected]
nahakamber.ee
And we can be called at:
+372 5673 9652 Hazgal
+372 5634 7953 Krislyn
---
Leather belts in custom sizes and various colours
Would you like a leather belt in some other size, colour or with hand carved patterns? Take a look at our crafts and get yours custom made!
Add one of these for a nice set: