Leather bag "Half Of The Briefcase"
250,00 €
Leather bag with natural (oiled) finish, decorated with hand carved ornaments.
Bag has three pockets, closes with a metal lock and has a shoulder strap that can be adjusted with a metal buckle.
Strap attaches to the bag with metal carabines. Smaller pocket on the front can be closed separately, second pocket is right behind the front pocket.
Bag is handmade out of full grain vegetable tanned leather.
There is 1 on our Pantry shelves
Handmade leather bag
Materials

This shoulder bag is made of vegetable tanned full grain leather.
For seams we use very durable and strong polyester thread. Also we have used some metal parts like buckles, carabines, loops and rivets. Leather used for this bag has not been dyed.
The bag is natural leather colour but it is oiled with special oil and smeared with a special mixture that repels water. Vegetable tanned items do turn darker in time and so will this bag. The natural tone leather shows this magic the best way.


Measurements

Biggest pocket:
22cm wide, 26cm deep, 6cm on the sidewide.

Smaller pockets:
18cm wide, 18cm deep and one of them also has the third dimension on the side: 3cm.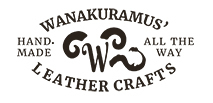 ---
If you want to ask something
We can be written to at:
[email protected]
nahakamber.ee
And we can be called at:
+372 5673 9652 Hazgal
+372 5634 7953 Krislyn
---
Leather shoulder bags – made to order
We offer hand crafted leather shoulder bags in custom sizes and shapes, with different amounts of separate pockets, in many colours and styles.
Take a look at our crafts and get yourself a leather bag that is made by your wishes!