Coin pouch "Fox"
30,00 €
Small pouch in mahogany that has a pocket for coins on one side and flap with a besieger on the other (when opened). Besieger doesn't let the coins to fall over the edge. For decoration this pouch has a hand carved fox on the cover.
Coin pouch is made out of full grain leather. It is made by hand from start to finish – cutting leather parts, carving image for decoration, sewing, dyeing – these are just some steps in the whole making process.
There is 1 on our Pantry shelves
Handmade leather coin pouch
Materials

Coin pouch is hand made out of vegetable tanned leather.

We use only high quality leather dyes that sink into the surface of the leather – they won't rub off or crack. In addition to leather we used for this pouch some very strong waxed thread, metal snap and rivet.

Measurements of the pouch

When closed, pouch is 9cm wide and 8cm tall.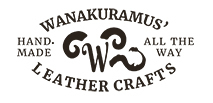 ---
If you want to ask something
We can be written to at:
[email protected]
nahakamber.ee
And we can be called at:
+372 5673 9652 Hazgal
+372 5634 7953 Krislyn
---
Wallets, card cases and coin pouches as custom orders
Would you like some sort of other kind of solution? Take a look at our wallets, card cases and coin pouches – most of these have been made to order.